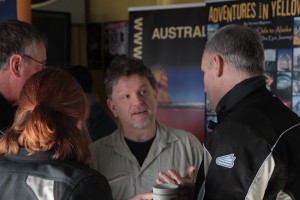 Norman Magowan offers a number of finely-crafted and entertaining presentations about the Adventures in Yellow along the Pan American Highway from Chile to Alaska. Each talk is presented to a stunning slideshow – including the choice pick from over 30,000 photographs taken on the road.
Norman has been guest speaker at a number of venues such as:
Horizons Unlimited Travellers' Meetings
The Geological Society AGM in London
The Women's Institute, Stevenage
SBW Motorrad BMW Dealership, Hertford
Adventure Bike Rider Magazine Night Out, Stratford Upon Avon
Norman and Maggie have appeared at a wide variety of events, including Waterstone's Bookstores, David's Bookshop in Letchworth (the UK's largest independent bookstore outside London & Cambridge), the BMF Rally and the Hay-on-Wye Book Festival.
If you would like to arrange a book signing and/or inspirational talk for your organisation or event, please get in touch via the contact page.
Forthcoming Appearances
Thursday 18th December 2014


Travelling through the Americas – Slideshow presentation to Biggleswade Probus Group