Told in two books, Leprechauns in Latin America and Leprechauns in Alaska, Adventures in Yellow is a heart-warming, humorous, and poignant account of an epic 15 month, 35,500-mile, journey through the Americas along the Pan American Highway.
The lure of the open road is embedded deep within our modern psyche; many dream of setting off with the sun on their back to chase the distant horizon, few dare to venture.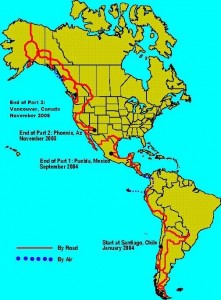 Norman & Maggie Magowan, stunted from birth by a meagre diet of Guinness and stew, dared to chase that horizon when they strapped on a pair of unfeasibly large BMW motorcycles and set off to ride from Chile to Alaska. Told in two books, their story, as they say in their Northern Irish homeland, is "a cracker"!
In January 2004 the pair flew out to Santiago, Chile, where their adventure started with a ride south to Tierra del Fuego, the southernmost tip of the South American continent. From there they followed the Andes through Argentina, Chile, Bolivia, Peru and Ecuador. Highlights included:
Torres Del Paine National Park in Chile
The Moreno Glacier in Argentina
La Paz in Bolivia and on to Lake Titicaca (the highest lake in the world)
The fabulous Inca ruins at Cusco and Machu Picchu in Peru
A side trip to the Galapagos Islands from Ecuador
From Ecuador, Norman and Maggie flew across the Darien Gap – a notorious stretch of impassable jungle running from northern Colombia into Panama – to reach the start of the Central American leg of the trip, which included:
The Panama Canal
Active volcanoes and tropical 'cloud' forests in Costa Rica
The beautiful colonial city of Granada in Nicaragua
The stunning Caribbean Island of Roatán and the fabulous Mayan ruins at Copan in Honduras
Lago De Atitlan and more Mayan ruins at Tikal in Guatemala
The world's second largest barrier reef in Belize
And finally the delights of Mexico
Sadly, they then had to suspend the trip in September 2004 after receiving news that Norman's mother was critically ill. The bikes were left in Puebla, Mexico, for 12 months while more pressing family matters at home took precedence.
From September to December 2005 they resumed the journey, touring northern Mexico and Texas, before leaving the bikes in Phoenix, Arizona. Those few months included:
Mexico's Caribbean coast
Corpus Christi, Houston, and San Antonio in Texas
The Alamo, the USS Lexington, and the USS Texas
Fredericksburg, the Texas Hill Country, and Big Bend National Park
The City of Chihuahua and Copper Canyon
The Baja Peninsula
The final North American stage of the journey, the ride up through the States & Canada to Alaska and the end, was accomplished between June and October 2006 and featured:
California – The Giants of Sequoia and splendid vistas of Kings Canyon National Park
Yosemite National Park
San Francisco to ride across the Golden Gate Bridge
Oregon – Crater Lake National Park – an unexpected treasure
Montana – Glacier National Park
Into Canada for a bit of Yee-Harr! at the Calgary Stampede
The serene beauty of Banff and Jasper National Parks
The Alaskan Highway from Dawson City to Fairbanks
Into Alaska for the Kenai Fjord and Denali National Parks
900 miles of cold wet mud up to the Arctic Ocean at Prudhoe Bay
Return south via Skagway, Sitka and the Inside Passage
The end in Seattle and Vancouver