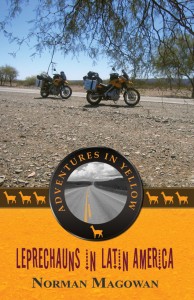 Leprechauns in Latin America relates the South American leg of Norman and Maggie Magowan's astonishing journey. It begins chasing volcanoes in Chile down to the end of the world, where accident and misfortune dog the early days of the trip.
These episodes ultimately turn to advantage and triumph as the metronome to this fantastic adventure is set. The duo readily yield to the torpid tango wonderland that is Argentina, where all sense of time and schedule are quickly abandoned.
Riding across the Altiplano, the pace is enlivened by their flight from strike-ravaged La Paz. Relief from the madness of Bolivia proves to be short lived when they run headlong into a real-life lynch-mob up on the shores of Lake Titicaca.
The rich tapestry of this South American sojourn is stitched with fabled romances involving a little Cowboy, the miracles of an un-sainted desert heroine and a ghastly murder in the Galapagos.
Leprechauns in Latin America – Comments and Reviews
A brilliant yarn, meeting triumph and disaster alike with unstoppable humour and an unbeatable turn of phrase.
(Geoff Hill, author of 'The Road to Gobblers Knob' & 'Oz – Around Australia on a Triumph')
With excellent research and descriptions, Norman gives a real sensation of what overlanding is all about.
(Sam Manicom, author of 'Into Africa', 'Under Asian Skies', 'Distant Suns' & 'Tortillas to Totems')
It's perhaps a little unfair to start reading the first adventure motorcycle travel book by a new author right after being immersed in Ted Simon's trilogy for the umpteenth time. However, Norman Magowan's 'Leprechauns in Latin America' rose to the challenge admirably. The book tells the story of Norman and his wife Maggie's exciting journey through South America and the heartwarming inspiration behind their life-changing adventure. Full of humour and personal insight, and laced with interesting historical background, 'Leprechauns in Latin America' is an engaging and thoroughly enjoyable page-turner. It's a good 'craic' that'll make you want to saddle up and get out on the road to experience it all for yourself.
(Iain Harper, The Ted Simon Foundation)
Leprechauns in Latin America was an awesome read, great adventure. Look forward to reading the next installment.
(Mark Calpin)
I have a slight bone to pick with you about your book. I like Scotland well enough, but I was only supposed to be going to North Yorkshire to look at a bike. I was not impressed when I looked up from Leprechanus in Latin America and noticed I was in Edinburgh Waverley station!! In all seriousness though, great read, and I'll pick up part 2 soon!
(Henry Nottage)