For a road journey of this duration and expected conditions, the choice of weapon seemed to be a single cylinder trailie style bike with some off-road capability. The main consideration in selecting the bikes was the seat height for us 'vertically challenged' Leprechauns from the Emerald Isle!
We checked out various bikes – Yamaha XT600's, Honda Transalps, KTM's and Kawasaki KLR's – but they were all too high in the seat, making them top heavy and difficult to control at low speeds and when starting/stopping.
This left, as an obvious choice, the BMW F650GS and we found 2 x 2002 models. They are (referenced by license plate number):
KG02 FUU was Maggie's first BMW and came in that lovely Mandarin Yellow colour with ABS and heated handlebar grips fitted. She was registered in May 2002 and had one previous owner before being traded in to Sawbridgeworth BMW with 2,700 miles on the clock. The bike was in mint condition when we picked her up in February 2003. Buying from a dealer offered us the remainder of a 2 year warranty to run, plus emergency breakdown recovery for the same period.
KP52 VTO we picked up a few weeks later. We were actually looking for another 2nd hand low mileage machine when we found this brand new pre-registered bike (Oct 02) at Wollaston BMW in Northampton. We were initially put off by the fact that she was the same Mandarin Yellow colour as Maggie's bike, but fortunately common sense prevailed and we snatched up the bargain. The new bike was £200 cheaper than our first bike, but came with only the heated handlebar grips and no ABS.
Modifications
We modified/customised the standard bikes with the following additions:
Luggage (Hepco & Becker):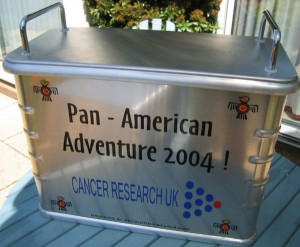 We opted for hard aluminium cases for the bikes. From past experience we've always found it useful to have something hard & lockable that can be left with the bike for stowing semi precious items like cameras & documents etc especially if you're off out for an evening and don't want to carry it all with you.We selected 38 litre Hepco & Becker 'Expedition' Aluminium panniers, from those lovely people at Motobins at Spalding, to carry most of our pruck. We opted for these over the Touratech items as they are a better build quality, they are quickly detachable from the bike (with the Touratech items, you have to empty each pannier first to do this) and they were unbelievably around £100 cheaper. They also come with all locks fitted as standard, where the Touratech items cost extra.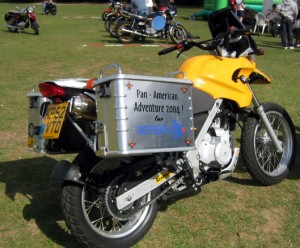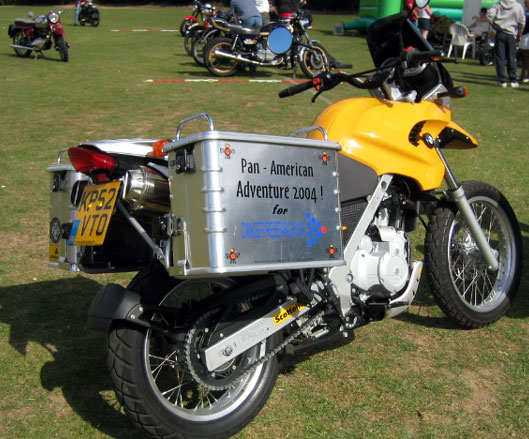 We lined the inside of the new panniers with a clear sticky-backed Fablon material, as the aluminium will otherwise rub off on the contents. The panniers also sport our 'Pan-American Adventure' livery, by way of a vinyl decal kit supplied by Revolution Decals.
The panniers have a dual purpose – when removed they provide us with tables & chairs for camping. The bikes now sport a 40" wide rear end as the panniers have to extend out beyond the upswept exhausts and you have this problem with any panniers you chose to fit. To put it in perspective, that's 4" wider than our old 1200 Gold Wing. To be fair, it hasn't affected the bikes handling and you can still lane split through traffic. The handlebars are 36" wide anyway, so it's only another 2" on each side.
The panniers were excellent and bear numerous bumps & scratches, having survived numerous low speed spills. Their weak spot is the locks. In Chile, Norm had a spill on gravel on KP, which wrenched the RH pannier off the bike. The lock is made of Monkey Metal and sheared in the crash, releasing the pannier. The lock clasp still worked but this pannier was held on with 2 canvas luggage straps for extra security until we could fit a replacement lock. In hindsight, this is not a bad thing as it means in an accident, the panniers will absorb crash impact and shear easily off the bike. Were they more solidly mounted, there is a danger that in a crash they might bend or distort the rear frame of the bike. There is also the potential danger of solidly fixed heavy aluminium boxes riding over your leg in an accident so I was grateful that mine came off.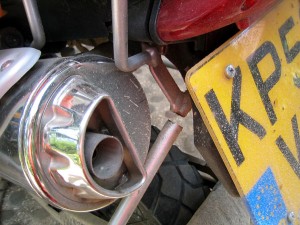 The rear cross bracing strap on KP failed following a nasty session on potholes in Costa Rica but we had it easily welded up. KG had developed a crack in the same place and a preventive weld was performed to head off a failure. KP's weld failed again in Belize, but this time we had it repaired with a piece of steel construction re-bar inserted for extra strength.
Tool Carriers: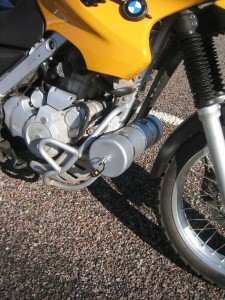 These were added by Chris King in Texas.
They were made from some 4″ PVC Drainpipe sprayed silver with end caps held on by bungee cords through eyebolts.
The whole carrier is then held to the bike by Jubilee clips.
They are excellent in that they move heavy weight low down and forward.
We used them to carry a security chain & padlock, tyre levers, spare inner tubes and some tools.
Chain Lubrication – Scottoiler: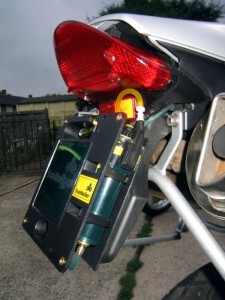 The chains on both bikes are protected with Scottoilers with their High Capacity Reservoirs (HCRs), fitted behind the number plates. These are essential items for a trip of this duration, minimising chain adjustments and increasing chain life by up to 7 times by providing constant lubrication when the bikes are running.
Amazing piece of kit! Only 3 chain tensions required in 10,000 miles. Reservoirs required their first top up after 15,000 miles in Mexico, half way through the trip. The chains lasted well, with few adjustments until around 18,000 miles when sprockets began to show signs of wear and tensioning was required more frequently. This continued to 22,000 (Norm) / 25,000 (Mags) miles when the original chains & sprockets were replaced in Texas by BMW supplied items.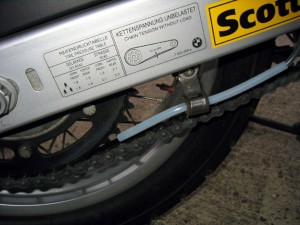 One minor niggle – we lost the final oil dispenser tubing a couple of times, so make sure you carry some spare tubing to make new ones (this is the short length of black narrow bore tubing that actually drips the oil onto the chain). We have secured these on both bikes using a piece of Duck tape. I think they can come off if they sit too close to the chain & get caught when the chain is bouncing around on bad roads.
Rear Brake Protection (Touratech):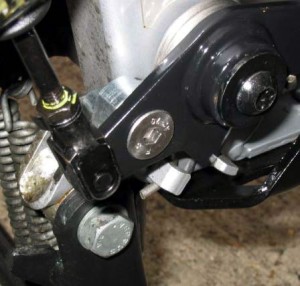 Both bikes sport rear brake protectors. On the standard GS, the rear brake stop (a small rectangular metal lug that sticks out from the frame and stops the rear brake pedal) is easily snapped in even light tumbles, where the brake pedal can be pushed upwards to shear the lug.
This addition protects against that and in the event that the brake stop does snap, provides a replacement, adjustable item.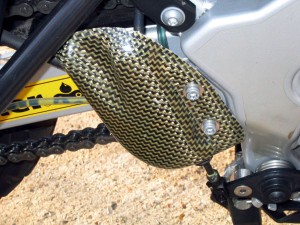 We also fitted these Carbon Kevlar covers over the rear master cylinders for added protection.
Haven't had to use either so no comment as to their effectiveness.
They do seem like a wise piece of preventive protection.
Handlebar Risers (Touratech):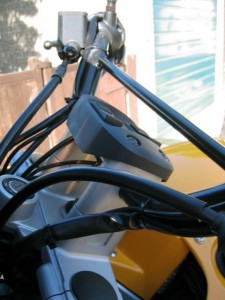 These lift the bars by about 30mm and give a slightly more upright and comfortable riding position.
They also add a little extra leverage and so improve the bike's steering.
Plastic Handguards (BMW):
We also added stock BMW items, as they keep cold and wet off your hands in adverse conditions. They have proved to be essential add-ons and have amazingly survived intact through the numerous minor crashes and spills on the road.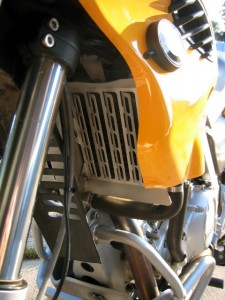 Radiator Guards (Touratech):
Neat Aluminium Guards protect the previously bare radiator.
Seats:
We have the lower (standard) seat options fitted to the GS and to be honest they are like planks. We converted the seats to have Silicone inserts fitted by a company called Saddlecraft and they are excellent and essential mods to these bikes. Before modification we were both crying to get off the bikes after only 60 miles in the saddle. In South America we could comfortably do up to 400 miles in a day with no major problems.
Fairing / Screen (BMW):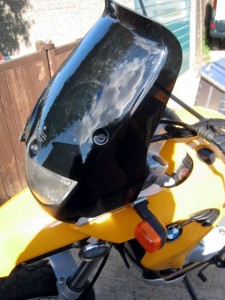 The standard silver/grey plastic scoop fairing, which directs the wind nicely on to your face, has been replaced with the Dakar version, which now scoops the wind up & over our heads.
Maggie's bike went upside down when she crashed in Argentina. The bike scooted along on the fairing, which was amazingly still in one piece after the spill, with only a few gravel scratches as evidence of her misfortune!
It works too keeping the worst of the wind off your chest & head. Definitely a vast improvement over the standard item.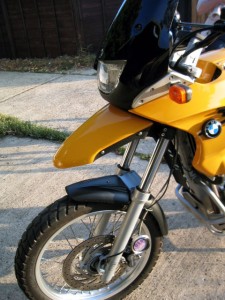 Inner Mudguard (Touratech):
The 650 has a nasty habit of deluging your crash helmet with water in wet conditions as the standard mudguard is too far away from the tyre to catch all of the spray. Seems to work fine!
Headlight Protector (Aeroflow):
Unfortunately we couldn't obtain a clear plastic headlight protective cover in the UK before the trip but once up in North America we found some Aeroflow headlight covers for $70 CDN from Anderwerk in Calgary, Canada which we fitted before starting the ride up to Alaska. They are a good idea – they fit over the original light with clear Velcro fittings & they can save the glass light from stone damage. See www.aeroflowscreens.com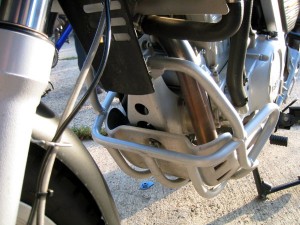 Crash Bars (BMW):
These have protected both bikes well through various minor spills.
Power Sockets:
Each bike was fitted with a BMW power socket, which neatly tucks inside the left hand side of the frame (Note this is a standard item on the 2004 + twin spark models). Useful for charging digital camera batteries, running a tyre air compressor & powering heated vests.
Life with the GS
Both bikes were kitted out as detailed above and run in before leaving the UK. Initial impressions were that the GS seemed to be robust and well made. Components are nearly all made from stainless steel, aluminium or plastic and paint finishes on the frame etc are very good. The bike is quite light, the seat height is fine (even with the standard seat and passing on the factory lowering option) and the bikes have a good performance in return for excellent fuel economy (@~70 mpg on normal cruising at 65mph to give a tank range in excess of 200miles + another 50 on reserve).
Once on the road we have been really delighted at the bikes handling – they are fun to ride, even fully loaded. Off road, both bikes have a tendency to weave on loose surfaces at any speed over 40mph, but that may well be down to our inexperience at off-road riding, rather than a problem with the bikes. This resulted in Maggie's crash in Argentina (see Online Journal for the gory details!).
The GS holds less than 2.5 litres of oil – not a lot of oil, doing a lot of work – so we performed oil changes every 2,500 miles with a filter change every 5,000 and using the recommended Castrol GTX, which was widely available throughout our travels. The oil change whilst travelling is always messy as the GS has a dry sump and you have to dismantle the tank fairing to get at the oil tank (involves removing 16 bolts). In addition to draining the oil tank on the upper left hand side of the bike, you need to drain the oil from the sump (necessitating dropping the crash bars & belly pan) and the filter (if required) on the right hand side of the engine. Oil changes are a bloodbath of GTX! – it ends up everywhere and the whole operation is quite time-consuming, fiddly and messy.
F650GS Fork Problems:
The 2000 – 2003 model F650GS has a design weakness in the axle mounting on the Showa forks. The forks can break, the wheel comes off and you can get hurt – badly. We were alerted to this fact by Wayne Carruthers, a fellow GS rider in Oz, who had been looking at our website and noted that Maggie's bike had a fork leg replaced under warranty, so he contacted us asking for details. The bike had blown 2 fork seals in 3000 miles so my local dealer replaced the fork leg under warranty with no quibbles. When asked the reason for his curiosity he sent me a link to an Adventure Rider forum describing a series of horrific incidents with the GS where the front wheel detaches from the bike (www.advrider.com/forums/showthread.php?t=371650). The incident was also covered by Superbike Magazine in their January 2009 issue.
The supporting metalwork around the leading axle mount can fail causing, in the worst examples, the other axle mount to fail and the front wheel to break off the bike. Wayne has traced and documented 10 other incidents of this nature. In these incidents, the riders were lucky enough to survive the ensuing crash, in some instances with serious injury (broken arms / collarbones etc). What is troubling is that if a bike suffered this wheel–mount failure at speed and was subsequently destroyed in the crash and the rider killed, the cause of the accident might well go un-noticed or be attributed incorrectly to rider error / speeding / road conditions etc.
Over to BMW…Surely such a catastrophic failure merits a product recall? Not so. But it does merit a product redesign. Late 2003+ models have improved design fork lowers with more metalwork bracing the axle holders on both forks. The cause is clearly an inadequate design of the fork legs in the 2000 – 2003 models, possibly exacerbated by porosity in the fork castings. The corrective action should be to redesign the forks, adding more metal to brace the axle support. This has been implemented by BMW on 2004+ models. To date no action has been taken to address 2000 – 2003 models already on the road, fitted with the old design fork leg. BMW have been contacted by affected owners and in what can only be described as crass corporate irresponsibility refuse to acknowledge there is any problem, putting it down to owner abuse / negligence / damage. They "reserve the right to change, alter and enhance component or assembly design as part of a programme of constant product improvement through the normal product lifecycle". These bikes are marketed and sold as 'dual sport' models with the label 'adventure' stamped all over them and it is not unreasonable to assume they will see some off road use.
We wrote in protest to BMW to no avail. They addressed the points in our letter but avoided any detailed answer on why the forks were redesigned if there is no problem and this is the crux of this problem and why I think BMW are behaving in a totally irresponsible manner. I do not believe that designers are permitted to waste time improving a design if there is no benefit – sure OK if it makes something cheaper / lighter / easier to make / sexier or whatever, but here we have something that adds weight / bulk and the only reason to do that in this instance is to improve safety margins.
For our two bikes, we changed the right hand fork for the new design (@ £170 per bike & doing the work ourselves). The RH fork has the axle pinch bolt and is the weakest of the two fork legs. The LH fork is more robust with more metal bracing for the ABS and axle thread.
We are both left feeling absolutely disgusted with BMW, their stance over this problem and their reluctance to issue a product recall. I only hope that the next incident I hear of regarding these forks does not involve a law suit over the death of a rider.
NOTE: In June 2009 I contacted VOSA (UK vehicle safety agency), who have raised this issue as a formal safety investigation. NHTSA (equivalent US body) have also raised a parallel investigation.
F650GS Starting Problems:
The biggest problem on the actual journey by far, which affected both bikes at the same time, was their reluctance to start at high altitudes in cold temperatures. It started in Northern Argentina where we had our first overnight stops at altitudes over 2,000 metres with a cold morning to follow. Since then we were plagued with the problem all the way through Chile, Bolivia, Peru and Ecuador. The bikes refuse to fire up (usually in front of a vast audience) and the first time it happened, we got them running by push starting but this has only worked on this occasion. For the rest of the trip, we usually got them running by standing them in the hot sun for 30 minutes and they eventually started. We were dreading the day when we'd wake up to overcast skies! In Ecuador the problem deteriorated and we ended up jump-starting them off a car. The bikes went into BMW in Quito but they could find no problem. We ended up carrying a can of ether to spray down the intake on cold mornings, which seems to do the job but is yet another bulky item to carry.
Every time we return to lower altitudes, the problem disappears – down on the Pacific coast of Northern Chile & Peru and we had no problems at all in Central & North America. Once the bikes are started they will restart all day and the problem only recurs when they have been standing overnight. The batteries and charging systems have been checked and are fine as are all the obvious things like plugs & air filters. We have communicated with several sources in BMW and they know there is a problem. One Munich source confirmed that during development the bike was not tested for cold temperature / high altitude starting and the condition may be worsened by possible inferior fuel in South America.
To be honest, this problem really shook our confidence in the bikes and we were very wary about any overnight stops in high places, trying to ensure that the bikes were kept warm indoors. In Cuenca in Ecuador, we met a local guy who had a same year model F650 and had no problems at all in starting, but www.F650.com is full of similar stories to ours. We even considered whether it would be worthwhile dumping the Catalytic converter. Any advice or helpful suggestions would be gratefully appreciated!
Brake Fade:
In Peru, on the road from Abancay to Nazca, a spectacular twisty 100-odd miles of hurtling through valleys, canyons and river gorges, the rear brake on KP failed on one of the steep downhill sections. The brake calliper was roasting hot to the point where the brake fluid stopped working. We stopped for 5 minutes and it recovered. We later changed the fluid (it had done 12,500 miles and was off-colour) and it seemed OK. 4,500 miles later, in Guatemala on a similar hairpin twister, the brake failed again – the pedal drops all the way down and there is no feel or action from the brake. Maggie's bike has also had this problem in Ecuador, again on a long twisty descending road with lots of deceleration needed coming into sharp bends. The brake is getting a lot of use, continuously braking into the hairpin descents and then dabbing the rear to steady the bike going round the sharp bend. Ambient air temperatures were warm as well, but I think there is a design flaw as we have never had this problem on any previous bikes and we are now very wary of this phenomenon on prolonged winding descents. Letting the calliper cool for 5 minutes recovers the brake and we have had no problems with the front brakes. In the US we changed the brake fluid for a competition grade fluid, which seems to have eliminated the problem.
Horns:
One fairly trivial but actually fairly important deficiency that we only really found on our journey was the bike's horns. At home in UK/Europe we rarely use the horn and so had not really noticed how pathetic it is. In our first Latin American traffic jam we realised just how vital it is to let people know you are there before they run over you. To be honest you may as well just lift your visor and shout at oncoming dangers, as this would be more effective than parping the silly single OE horn on the GS. During the Interlude when we left the bikes in Mexico, we procured some Stebel Magnum Horns. We were told they would fit directly where the old horn is sited – just snip off the old connectors & crimp on the new ones provided, they don't need any extra relays or wiring, put out 136db and cost around £10 each. We bought the horns after hearing one fitted to a friend's new GS1200 and were duly impressed. They do not fit on the 650! There is insufficient room in the little horn compartment under the front mudguard and the only option would be to mount them externally which is (a) unsightly and (b) exposes the horns to the weather. We carried them for 2 months around Mexico on Part 2 of the trip as useless extra weight and they were returned to the supplier when we arrived back in the UK.
We eventually replaced the horns with louder Chrome Japanese items from Hein Gericke, checking first that they fit in the horn cubby-hole. They are louder but, to be honest, the mudguard seems to act as a baffle and mutes the sound especially at speed.
I also had a recent problem with KP (May 2009) when the horn stopped working. The circuit has the battery, horn, horn switch, horn relay and fuse link and all of these elements checked out OK. I frustrated the hell out of me until I checked the ground lead to the horn itself and found this was dead. The fix was simple; just snipped off the old connector and made up a short new ground lead with a ring tongue terminal running to the lower yoke. This worked fine for a few weeks, then no horn again! I figured that if the ground wire had broken the chances were that the live was now gone at the same place. This proved to be the case.
Initially visual inspection had revealed no damage to the wiring and I figured the break was somewhere inside the harness bundle. On closer physical examination I found the broken wires right where the horn leads break out of the main harness on the right hand side of the headstock. By feeling the wire I could detect that it was broken so I peeled back the cloth-tape insulating wrap and there were the broken wires. I spliced in 2 longer leads to repair. I figure this is another BMW design shortfall – the wire to the horn is just a little short such that it gets worked to and fro every time the steering moves, eventually breaking. Easy to fix but a bugger to find as there is no visual indication of the broken wire.
Wear and Tear:
KG had one fork leg replaced under warranty before leaving the UK. BMW UK admitted it was a manufacturing flaw and replaced it with no quibbling. KP blew a fork seal on the first day on the Alaskan Highway and we replaced both seals in Anchorage.
By the end of the trip KP had worn steering head bearings with a definite notch noticeable when the handlebars were set straight. These were replaced by BMW in Seattle.
Both bikes had their chains & sprocket replaced in Texas – ½ way through the trip. At the end they need replacing again. See the section on Scottoiler above for more on chain maintenance & lubrication.
Tyres:
The original equipment Bridgestone Trailwings were replaced by Continental TKC 80's for the first leg of the trip. The Conti's lasted just over 6,000 miles when we replaced them in Salta in Argentina. We could have had maybe up to another 1000-miles from them but as we were headed into Bolivia & Peru, where replacements are difficult to obtain, we decided not to take any chances and change them early. The bikes were then changed to Bridgestone Trailwings.
My rear tyre had to be replaced after 7000 miles. We were in Guatemala City and the bike had a set of Metzeler Tourances fitted as a single Bridgestone was unavailable and we were never too keen on mixed sets of tyres (this, plus it cost only $100 for the 2 tyres – incredibly cheap!) We later kicked ourselves that we hadn't taken advantage of the cheap price and replaced Maggie's at the same time.
Both Conti's & Bridgestones have been excellent tyres, with no scary moments even with fully laden bikes and in all weather conditions. Of the 2, Maggie prefers the Bridgestones, as the bike is just a little lower than when it had new Conti knobblies fitted. The Metzelers are very similar in appearance to the Bridgestones but not just as good. I'm not sure what it is, but I just don't have that 100% confidence I had with the Bridgestones. The Tourances did last well going from Guatemala City up to Calgary in Canada via a big zigzag across Texas & Mexico, but as they wore more I noticed that they were picking up on deformities and overbanding on the road a lot more that the Bridgestones, giving a few ass clinching moments. From Calgary onwards, both bikes therefore had Trailwings.
We fitted Michelin heavy-duty inner tubes and they are protected with Ultraseal puncture sealant. We had no punctures during our 35,500 miles on the road so we can't comment on whether the Ultraseal is any good. The lack of punctures is also due to careful tyre maintenance – checking the pressures regularly and changing tyres before they get really worn out (once we noticed a degradation on handling due to obvious wear on tyres, they were changed).
Other Niggles:
Both bikes have now trashed the stupid plastic mudguard over the rear wheel. It oscillates, especially off road and soon starts to crack at the end of the chain guard. Maggie's fractured completely and we cut it off so only the chain guard part remains. Mine was failing in the same way so we cut it off to make a neater break.
KP suffered a fuel pump failure in Argentina, requiring the bike to be recovered from the middle of nowhere, but this too was replaced under warranty by BMW in Cordoba. It seems to be another common problem due to unstressed wiring on the fuel pump itself and a simple fix is documented on www.f650.com.
Following a 10 second river dunking in Peru, the digital clock on KP now goes berserk on powering up and will not keep time. It was very distracting and I removed the clock trim and covered the area with a piece of insulating tape to blank off the offending display.
Summary
BMW need to address the fork deficiencies on these 2000-2003 model bikes. A product recall should be issued immediately before someone gets badly hurt or worse.
The GS is a fine bike for ordinary everyday use but on a trip like this, its shortcomings are highlighted. The cold temperature / high altitude starting was really annoying and cost us a complete wasted day in Ecuador when we had to abort our plans as both bikes wouldn't start. It is worth noting however that this problem is only likely to be encountered on the South American Altiplano and in the Himalayas; the only regions on Earth where you'd be likely to spend prolonged periods of time at seriously high altitudes (>2,200 metres). The rear brake fading is scary and potentially dangerous and definitely worth fixing before any trip. The digital clock on KP is annoying and although it was caused by a short river dunking, it's not too much to ask of BMW to make the instruments fully waterproof.
On the positive side, the fuel economy is superb and the bikes are a delight to ride with no nasty habits on the road. The ABS on Maggie's bike is a bonus. It works great in emergency stops on good roads and you have the option of disabling it for off-road. At the end of the day, every bike is a compromise and in the final balance for us the little F650GS has been superb. We had a lot of fun on the bikes over our 35,500 miles and we missed them terribly when we were parted during the breaks in the trip.
Post Trip Modifications
On returning home, both bikes were showing signs of life at 40,000 miles. In early 2006 we undertook a fairly extensive programme of servicing and straightening out.
Both bikes needed new rear discs. The Haul Road to Prudhoe had really eaten the OE items. Replacements from Stealth Motorcycle Products @ £50 – very cheap; they are a trade outfit who sell direct to the public.
KP had her 2nd chain & sprocket kit fitted – again that Haul Road had taken 25% off the chain life (16k compared with 22k – both chains original BMW items). We declined to fit any more BMW chains. According to www.F650.com on their Technical page on aftermarket chains, the OE DID 520V chain is only rated for bikes up to 400cc by its manufacturer! A gold X-Ring item was procured at £80 for chain & sprocket kit from Stealth.
Since around 30k, both bikes have been suffering from malfunctioning switch gear on their electrics. On both bikes the starter button has fouled up and on KG the heated handlebar switch also fouled. In all cases we were able to disassemble the affected switch and clean the contacts with a little sand paper. The switches are all simple mechanical devices but take care to note how they work as they may contain little springs & ball bearings. Make sure you don't loose these as they ping off during disassembly!
KG had a lot of damage to her cockpit fairing from the big crash in Argentina. We replaced the following items:
Handlebars were slightly twisted. Changed for BMW items mod'd for the heated grips.
The cockpit sub-frame (the oval loop of steel tubing that holds the clocks, headlight & fairing on the bike) was slightly squashed and twisted. Although we straightened it out as best we could, it was never right. Replacement off EBay for £20 from a later 04 model bike was mod'd to fit.
Front mudguard – the big plastic bit cracked in the crash and the beaky mudguard was decidedly flimsy afterwards, in spite of gluing it on the road. Cheap to replace with a new item from BMW.
Further modifications…
When changing the fork legs for the new design fork legs I also fitted Hagon Progressive fork springs (£65) to KP to stiffen up the front end and maybe stop it digging in so easily off road. They seem to make the front suspension slightly stiffer and the bike feels firmer all round up front giving an improved ride. Will try it our for a while before mod'ing the other bike.
Cracks on the Frame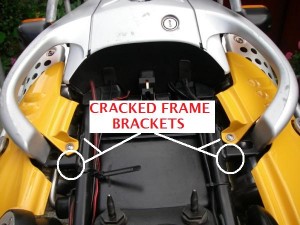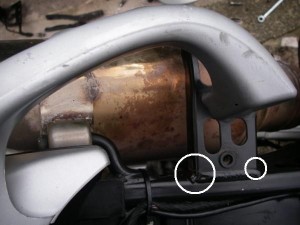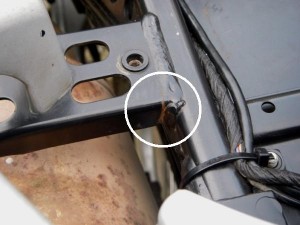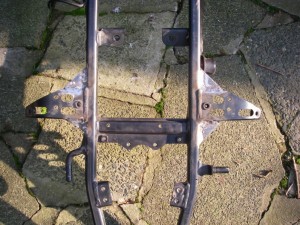 Some time after we came home, I took the rear end apart to thoroughly clean the stainless exhausts. In the process I discovered some hairline cracks on the pannier mounting lugs on KP. Both sides were cracked on each side of the bracket (2 cracks each side – see photos).
The subframe was removed and some gussets welded to strengthen the brackets (see lower photo).
IF YOU HAVE AN OLD BIKE OR A MACHINE THAT HAS TRAVELLED ANY DISTANCE WITH PANNIERS MOUNTED, I WOULD ADVISE CHECKING THESE POINTS.
Petrol Tank Side Flashes: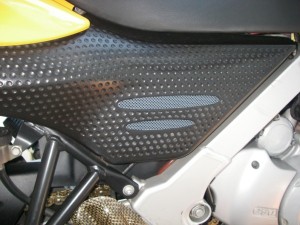 The GS comes with two little oval shaped, colour matched plastic flashes on each side of the petrol tank. Unfortunately these tend to get kicked off at some point when mounting / dismounting the bike leaving an unsightly hole. We never actually saw this happen, we just noticed that they were gone and the most likely mechanism is that your boot slides down the side of the tank when getting onto the bike on it's sidestand. It is a cosmetic defect only so we ignored it on the trip. Replacement items from BMW are very expensive (and just as likely to get kicked off again) so we filled the slots with carbon fibre tape which looks pretty good. Take a rubbing from the tank with a blank piece of paper and a soft lead pencil to capture the shape. Cut this out to make a stencil to mark out the carbon fibre sticky sheet (£4.99 for 3 sheets from Hein Gericke).
Bigger Side Stand Foot: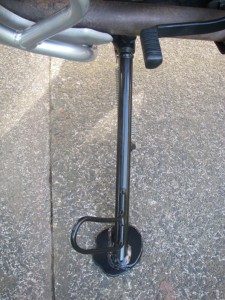 The 650 GS side tends to sit very straight on its sidestand. Load the bike up for touring and this means the bike can easily roll off the stand on any kind of incline. It happened to us a couple of times, usually waiting until you had just walked away from the bike to hear a resounding crash as the bike tumbles. It is a rule of the road that this will always happen in a very public place with a huge audience, usually when you are feeling most tired or hassled. It nearly always breaks or damages one of the front indicators. Out with the cornflakes packet, draw a little bear paw shape template and take the stand off the bike and off to your local welder. We had a new foot cut to the template and welded on to the stand. Note: the new footplate extends out the front of the stand and keeps to the rear profile of the original stand (you can't extend it backwards or it will foul the main stand under the bike when retracted). The newly welded stand was then cleaned and made neat before plastic coating.
Warning: When removing the sidestand, there is a big hex key bolt that looks like it simply unscrews. What you don't realise is that there is a tiny circlip on the top end of this bolt (i.e. on top of the sidestand mounting where it holds a flat washer in place). If you are not careful in removing this first, it will ping off and you may never see it again!